my current practice is focused on two things:
one – developing the inclusion of protest text in my work (and seeing how opinions or 'hot takes' change when the writing method is deliberately slow or laborious, e.g. embroidered lettering).
two – developing impactful, lo-fi printmaking processes using accessible materials
current techniques and artwork in development:
UniFORMS
I plan to make a series of works that combine the sharp, printed outlines and embroidered elements of 'Impossible Object' with the written testimony of 'Rant, (Brutalism)' (pictured below).

I'm developing a series of prints that examine the history and meaning of specific garments. Starting with the – now ubiquitous – worker's jacket, I want to make large scale screen prints on wool melton fabric with colourful printed and embroidered elements. The text will explore the history of these classic items of clothing and take in their meaning as it relates to class and gender.
Protest Text
'
I've been experimenting with including written elements in my work since making 'Rant (Brutalism)' in 2022. I'm having a lot of fun exploring how opinions and hot takes change depending on how they're written (ponderous slow stitch or hand lettering) and where they appear.
Painted Wool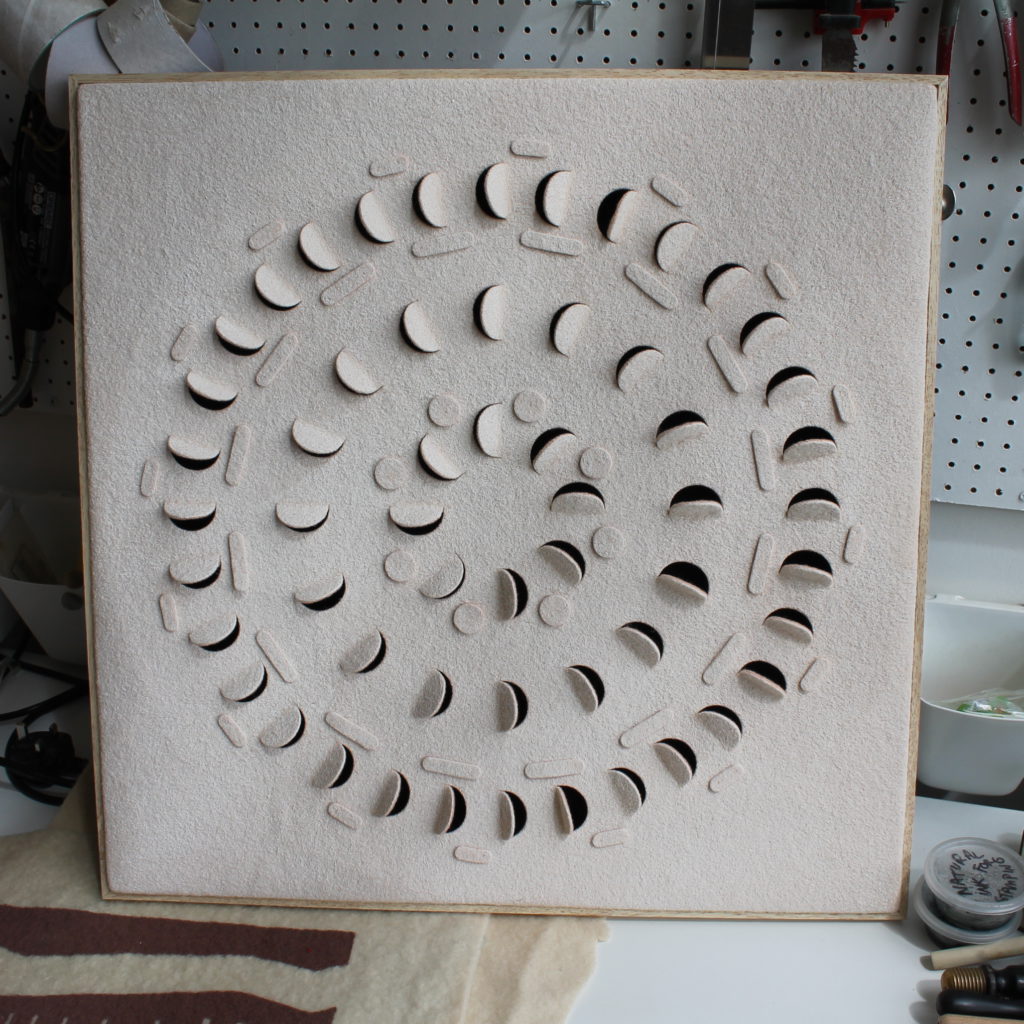 'Comfort Blanket' is made from a thick and scratchy 1980s peach blanket, painted with Wickes trade emulsion and cut by hand using metal dies. The paint reflects the light in beautiful ways and shadows are cast by the 3d elements. Behind the work is a recessed panel of black felt which adds depth. I wanted to explore if this unassuming textile could be transformed from its scratchy, unfashionable origins into an austere artwork. I made 'Test Card' in and 'Rant (Brutalism)' using a similar techniques. Painted wool gives the feel and look of concrete, which my hometown was absolutely slathered in.
Large Scale Halftones
'Halftone, Second Half' is a solo exhibition of screen prints to paper and wool which explore attitudes to the menopause (at Arc Arts Centre, from April 28th 2023). The prints are inspired by the processes used (and design of) mid-century matchbox labels. I have always been drawn to simplicity and bold, graphic forms in my work but by enlarging the halftones the matchbox designers used (and by working at scale) I got to explore the imagery of public information campaigns and hope I was able to subvert them a little. I was awarded funding for this exhibition by Arc, a Stockport arts and mental health charity.
Natural Inks
Since 2021 I've been making my own inks, including the witchy, black ink I made from oak galls collected on the school run. I use my inks to draw and print with as well as for staining leather accessories. I've also made inks from avocado, blackberries (collected from the Fallowfield Loop), indigo and turmeric. For 'Black Lines' I challenged myself to say 'Fuck the Tories' each time I made a mark. It was very, very satisfying.